Introduction

Corporate culture is often understood by people as something abstract. One author defines it as "the shared values, attitudes, standards, and beliefs that characterize members of an organization and define its nature" [1]. I've read one LinkedIn article which suggested that since culture is an abstract thing, we should forget about it in dealing with concrete problems of the corporate life, implying that it's useless to talk about something that is intangible to people's lives.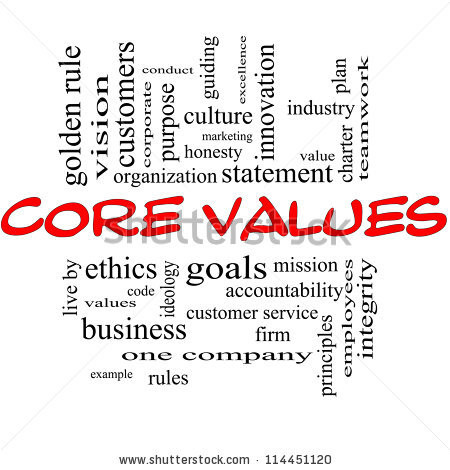 Is corporate culture abstract?
Partly, yes! Corporate culture as the way of life of a particular business firm is something conceptual and abstract. In fact, it has intangible or non-material components such as core values, beliefs as well as corporate laws and norms. But this doesn't mean that these non-material components of corporate culture do not affect people in a concrete way. Company rules, for instance, may appear abstract.
But managers or employees can feel their coercive and psychological power once they violate them and feel their sanctions. As one lawyer would say: "It is better to charge than to be charged in court." The psychological trauma is even greater when one is not just civilly charged but criminally charged for violating company rules! Moreover, cultural beliefs can also affect the corporate life of business. When I was in Ho Chi Minh City, Vietnam, for a field research, I was told that retail business firms there normally experience more customers in the morning than in the afternoon because of the cultural belief that buying in the morning implies luck and prosperity to the buyer. Thus retail operations are adjusted to focus on the morning rather than on afternoon or evening. Obviously, employees of these retail outlets are affected by this cultural belief.
Corporate Culture as a Lived Experience
Corporate culture is therefore a lived experience. It affects both the cognitive and material or behavioral aspects of people's lives. It affects the workers' social and economic life in the firm. If the firm, for instance, often delays the release of salaries due to bad management, the rank-and-file employees and their families would literally starve. Or if the firm does not provide skills training or career development for its employees and managers, the company's productivity and brand can be affected.The point here is, culture is not just an abstract reality but, above all, a lived reality that affects all the members of a corporate community.
As a lived experience, corporate culture is experiential. Its totality could not be described on paper since it is the entire way of life of a particular business organization. It can only be fully understood and felt by people if they are immersed into it, participating in its day-to-day activities for a considerable period of time. Once people become regular members of the company as employees or managers and actively interacting with people, structures, and rules, they would soon discover the firm's basic cultural patterns.Thus, people could not fully understand and appreciate the generosity of Google's corporate culture to its employees and managers if they are not part of the internal culture of the company.
This internal view of the corporate life by insiders is what anthropologists call as the emic perspective (insider's view). Job seekers who do not have any idea of the inner workings of the internal culture of the hiring company may soon be discouraged or shocked if they discover as new employees that the corporate image of their new employer as projected in the social or mass media is not what they actually live or experience inside the company. Thus, acquiring an internal knowledge of a corporate culture can only be understood if one is part of the corporate community. Non-members can only gain the etic (observer's perspective) or external knowledge of the firm's culture. Only insiders such as employees and managers can feel and understand the basic patterns of their corporate culture as they belong to the firm's corporate structure.
An outsider or visitor may discover partially some of the firm's cultural traits from a far but could not discover and live its basic cultural patterns and inner dynamics. But for an insider, a corporate culture can become too familiar with him/her that s/he can label its basic image as "toxic", "employee-friendly","damaged", etc.These terms do not totally, of course, capture the complex patterns of the company's culture, but they provide a basic image to describe the basic cultural orientation of the firm. They can become a useful guide for top managers in changing or reforming the corporate life of the firm as well as for recruiters in selecting applicants who fit into the corporate culture of the hiring firm.
Conclusion
Corporate culture is therefore not purely an abstract thing but a lived reality. It may appear as an abstract reality mentally at the onset. But when one participates in the firm's daily life, corporate culture becomes a "real" thing that affects the mental and physical life of people inside and even outside the company. It becomes the basic mold that shapes the corporate lives of employees and managers as long as they remain members of the business organization. Corporate culture is therefore like 'the operating system' of the business organization that guides people and employees on how to think, act and feel inside the company [2].
Thank your for reading this post. Feel free to like, comment, and share this post! Cheers and God bless!